One of the biggest sporting icons and celebrity names on the planet is soccer player Cristiano Ronaldo. Since first breaking into the big-time for Manchester United, he has gone on to enjoy successful spells with Real Madrid and now Juventus. Known for his pace, dribbling, heading, free-kicks and shooting, 'CR7' is a truly global mega-star. He has won many trophies at club level over time and reached the pinnacle of the game. When you also add in his exploits on the international stage for Portugal, it is easy to see why even people who do not follow soccer know him.
It is not just sporting excellence that this player has in his locker though. Next to massive followings on social media sites (240 million Instagram followers and counting!) and a clothing label, he is also a keen poker player. This love of poker is actually a surprise to many and not something commonly known about him.  But what should all Cristiano Ronaldo fans get up to speed with about his poker playing career so far?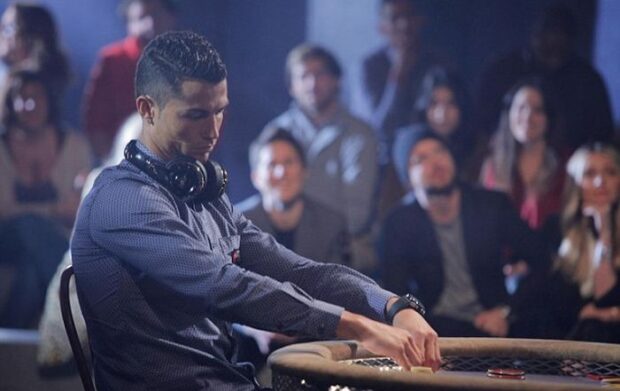 Ronaldo and poker
Although not many people know, Ronaldo actually began playing poker in his 20's and has a real passion for online poker play. He also loves playing with friends at home – as many of his social media posts show. The secret was really out in 2015 though when he teamed up the respected PokerStars brand. Interestingly, Cristiano Ronaldo was not the only big name to join the brand around this time, as people like Neymar Jr also got involved as well.
PokerStars remains one of the best online poker rooms around and was looking to build its profile in 2015. Of course, Ronaldo was at his peak back then and this made him an obvious fit for them to work with. The campaign which he was involved with saw celebrities play 1 on 1 poker games and charity tournaments. These games and tournaments generated massive headlines, while also showing off the skills of the celebs involved. Ronaldo certainly surprised many with just how good he was in them! There is even more on bestcasinos.net if you want a deeper dive into his earlier poker days.
What draws Ronaldo to poker?
Many people might think that soccer and poker are a funny combination. This is not true though and Ronald himself has been on record as to why he loves the card game so much. Speaking in a PokerStars press release, he confirmed that he enjoys the strategy, the fun and the competition which playing poker brings. Poker also involves quick thinking, the need to predict what other players will do and the ability to follow rules. It also needs players to find ways to focus properly when playing poker, so they do not miss any key action.
When you think about it all a bit more, soccer does actually contain all these same traits as well. This therefore makes it quite easy to see why the player would get as much of a kick from poker, as he does from soccer. Ronaldo has been recorded as saying poker is his game, while soccer is his world. This probably sums up how highly he values both and how important they are too him.
Ronaldo's poker career so far
Since starting out his pro poker career with PokerStars, Ronaldo has impressed many with his skills and quick thinking. One of his first matchups in 2015 saw the player compete against Mireia Lalaguna – who was Miss World at the time. This was a very exciting game and one that saw both players having a blast while trying to outdo the other. In the end though, CR7's experience and poker skills won out.
2016 saw him take on actor Aaron Paul in a 1 on 1 event for their respective charities. Available via the internet as part of the brands Web Series, it was interesting to see 2 famous names in a different setting.  Although Paul initially seemed to hold the upper hand, Ronaldo came back into it with some sensible play. By the end of the game, Ronaldo had triumphed with a winning hand of 2 Jacks against a 6 and 4 of Spades. This saw him go for a daring all in on a pair, which ultimately led him to the win.
Where will poker take Cristiano Ronaldo next?
It's well known that the player initially started to play poker with friends as a way to unwind, when not playing or training. As he gets towards the end of his professional soccer career therefore, you would assume he will soon have even more time on his hands to fill. While he will not be short of offers or projects, this could seem him have even more time to devote to poker.
This could see him play more games and tournaments for charity, as part of the PokerStars tie-up. Of course, it could also see the player decide to play high-stakes non-charity games for money or get involved with events like the World Series of Poker. Having Cristiano Ronaldo as one of the players in this sort of event would certainly be a real coup!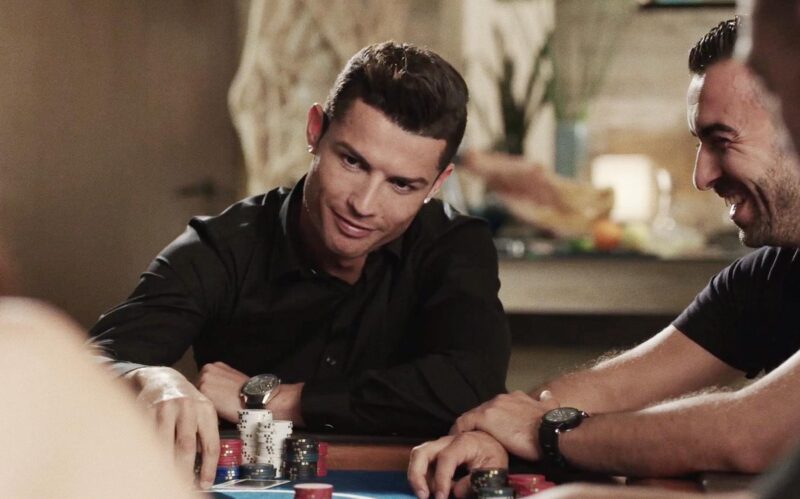 Soccer and poker – Ronaldo's two loves
Most people on the planet know Cristiano Ronaldo the footballer and how talented he is in this sphere. Not everyone though knows how good Cristiano Ronaldo is at poker and the skills he has in this environment. The ongoing PokerStars partnership has certainly made his poker chops less of a secret though and shows the wider public his love for this classic card game.
As a way to relax off the pitch, it seems poker is the perfect outlet for him. With more games and wins to come no doubt, this happy marriage between sport and leisure should carry on for sometime you would assume. Although the future is always hard to predict, poker should continue to be a passion for Cristiano Ronaldo moving forward.