Are you a fan of the game of poker? Awesome, but hold on just a second. Before you decide to head over to Las Vegas to simply enjoy a great poker night, think about your own professional poker chipset. You do not have to go to a famous casino if you have an amazing set of chips at home. After you get one of these, poker night with friends in the comfort of your home will be better than whatever your local casino has to offer. With this in mind, let us check some of the best sets currently available.
1. Chips and Games Custom Poker Chip Set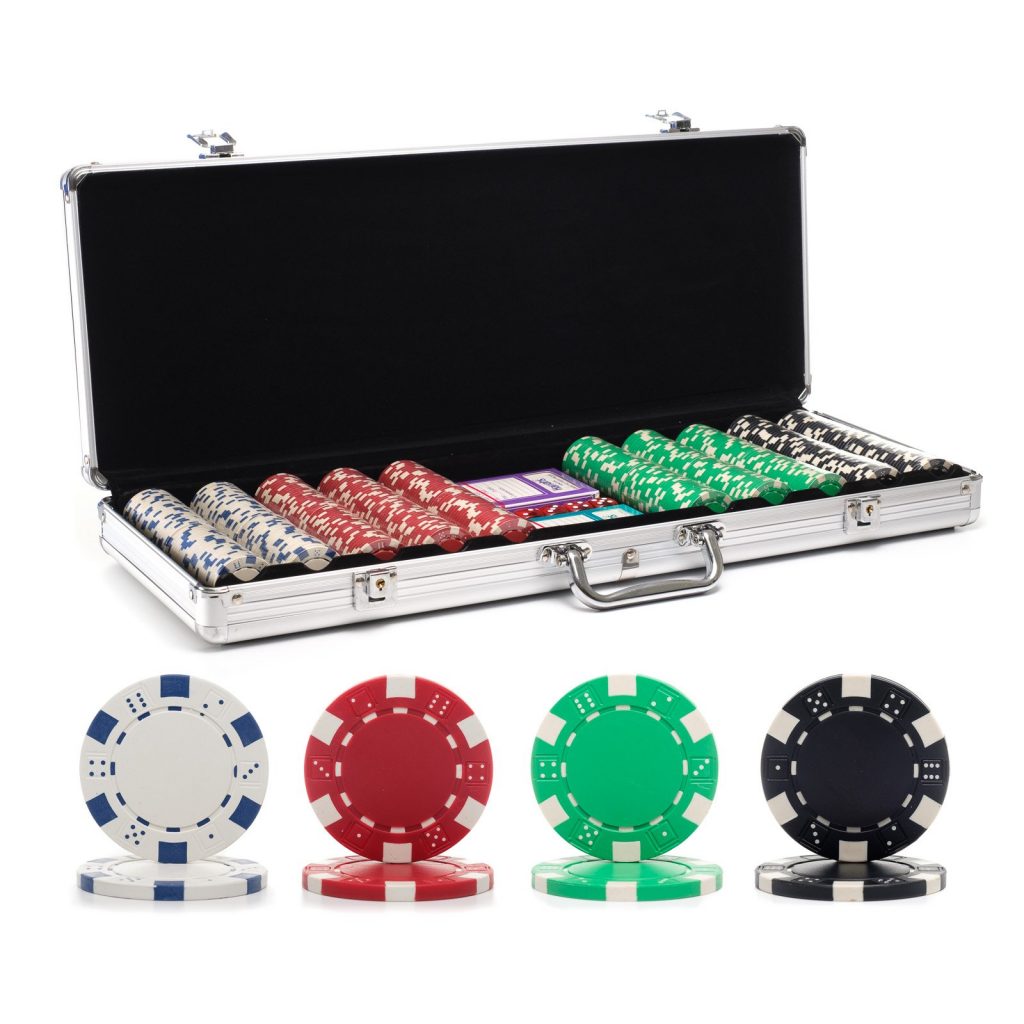 If you want the real deal for yourself or a poker lover in your life, this customizable set is what you will want. You can choose the foil colors of the chips, and get the initials stamped on them too! Other than this great visual detail, many other benefits come with the set. It is great for average-sized games of six people. The chips are of high quality and well designed. Their weight and feel are very similar to the casino ones. The rest of the equipment is also well made, and so is the case that protects everything.
2. Claysmith Gaming "The Mint" Poker Chip Set
The actual structure of each different poker chip size is important, mainly because they are meant to be stacked together and pushed forward. You, therefore, need nearly flat chips to stack them without them constantly falling everywhere. The chips in this is what you need if this is your main concern.  They also have markings on the edges, so it is easier to count them in a pile. The whole set is of good quality, especially the chips. The weight feels great since they are made from a clay composite. The sound they make while you deal them is satisfying and reminiscent of a real poker table at a casino. They truly make a statement with their style and design. The case also looks professional, and it is easy to carry and handle.
3. LANSCH Poker Set
Although it only has 300 chips, it is perfect for card games with less amount of people. This poker set still has everything you need for a wide variety of different casino card games. With the chips, you will get two card decks, dice, and blind and dealer buttons. If you travel a lot and play poker on the move, this is a perfect setting for you. One poker chip weighs just 11.5 grams, which is perfect. They are made from composite resin, and they truly resemble casino chips. As everything else in this set, the case is of high quality and strong, yet compact.
4. JP Commerce Monte Carlo Clay Poker Chips Set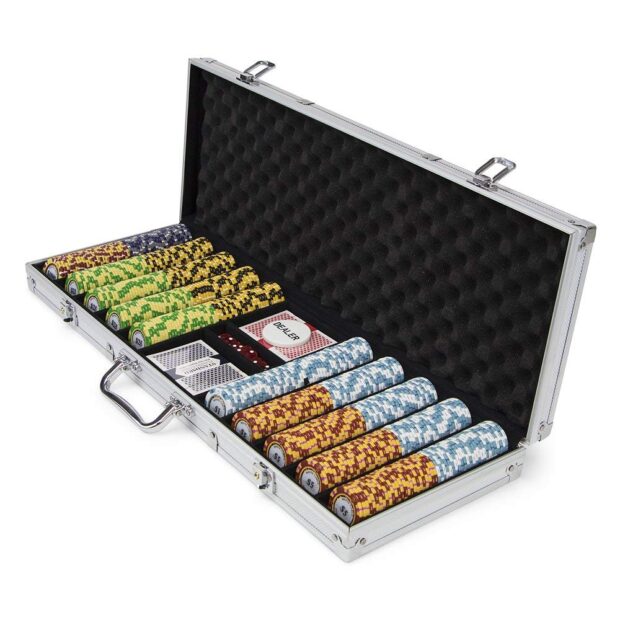 Although metal and plastic last longer and are more durable, nothing beats the feeling of playing with true clay chips. This unique feeling and the awesome sound are essential to mimic the vibe of a real casino in your home. If you like aesthetics like these, look no further than this set. Each chip is 13.5 grams, somewhat heavier than average but more similar to the real casino chips than the rest. You get a total of 500 chips, enough for up to six people to participate. The case is stylish, strong and it looks professional, hard shell on the outside and soft sponge lining on the inside. It will protect these very well made chips anywhere you go.
5. Kovot Dice Style Poker Chip Set
If playing with only a handful of people is your desired way of having fun with poker, or if you often play on the move like when you travel, this set will do wonders for you. Since you get 300 chips, expect to host games of three to four players. These kinds of intimate games are often the most engaging. The overall size of the set is similarly compact and easy to carry. The chips in this set have a dice style pattern on, and look rather professional, while the weight is similar to the ones casinos use, and stands at 11.5 grams. The case will protect them nicely, as it is hardy yet lightweight.